| | | |
| --- | --- | --- |
| Transformations and properties | Technologies for the semantic web | Ontology matching |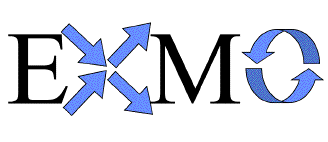 Computer mediated exchange of structured knowledge
Expressing formalised knowledge on a computer is useful, not especially for the need of the computer, but for communication. In future information systems, formalised knowledge will be massively exchanged. The goal of Exmo is the development of theoretical and software tools for enabling interoperability in formalised knowledge exchange. Exmo contributes to an emerging field called the semantic web which blends the communication capabilities of the web with knowledge representation.
There is no reason why knowledge expressed on the web should be in a single format or by reference to a single vocabulary (or ontology). In order to interoperate, the representations will have to be matched and transformed. Moreover, in the communication process computers can add value to their memory and medium role by formatting, filtering, classifying, consistency checking or generalising knowledge.
We currently build on our experience of alignments as representing the relationships between two ontologies on the semantic web. Ontology alignments express correspondences between entities in two ontologies. They allow for maximising sharing on the semantic web: various algorithms can produce alignments and various uses can be made of these alignments. Such alignments can be used for generating knowledge transformations (or any other kind of mediators) that will be used for interoperating. In order to guarantee properties of these transformations, we can consider the properties of alignments and generate transformations preserving them.
Our current roadmap focusses on the design of an alignment infrastructure and on the investigation of alignment properties (and especially semantic properties) when they are used for reconciling ontologies.
On a longer term, we want to explore "semiotic" properties, i.e., properties which concern the interpretation of the communicated representation by a human user. This goal should require an analysis of the extra-semantic rules that govern the choice of subsets of models.
Our work is naturally applied in several contexts: semantic peer-to-peer systems, dynamic document composition, interoperability in ambient computing, web service composition, social semantic networks and data interlinking. We also investigate more traditional topics such as distributed reasoning with heterogeneous ontologies and expressive query answering.
---
Contact:
Jérôme Euzenat (Jerome:Euzenat#inria:fr)
INRIA Grenoble Rhône-Alpes & LIG
655 avenue de l'Europe, Montbonnot Saint-Martin, 38334 Saint-Ismier cedex, France
Phone: +33 476 61 55 28 (assistant: Marion Ponsot)
There are good directions on the WAM page.

Exmo is an INRIA project team member of the UMR 5217 Laboratoire d'Informatique de Grenoble (LIG, common to CNRS, Université Joseph Fourier, Institut National Polytechnique de Grenoble, Université Pierre Mendès France and INRIA Grenoble Rhône-Alpes).

---
http://exmo.inrialpes.fr © INRIA, 1999-2013
---
Feel free to comment to Jerome:Euzenat#inria:fr, $Id: index.html,v 1.106 2013/05/03 19:54:38 euzenat Exp $